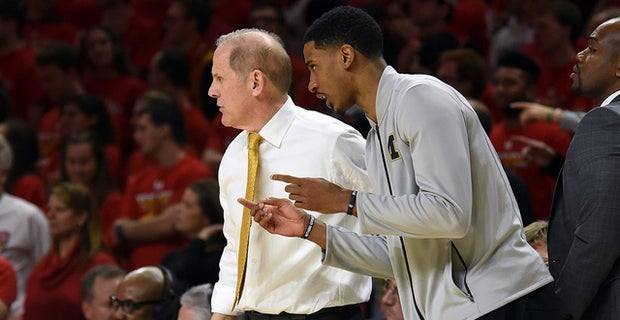 ANN ARBOR, Mich. —Charles Matthewsis back in practice, that much is known.
The Michigan basketball team won't reveal how much the redshirt junior — who sprained his ankle during a game Feb. 24 — has practiced, and the Wolverines either don't know or won't say what his status is ahead of Michigan's trip to No. 9 Michigan State.
But there's progress, which is something.
"Charles was able to practice a little bit today, he practiced a little bit yesterday," Michigan coachJohn Beileinsaid Friday. "He'll be out there, he'll go through warmups and he'll let us know how he feels. So that answers that question.
"We'll see what level he can go at. Maybe he can just give us a rest, maybe he can go full-go, so that would be the expectation. We're being very careful with him."
Matthews, who is third on the team averaging 12.8 points and 5.1 rebounds per game, has missed Michigan's last two games due to the ankle injury. He initially played on the injury, amassing four points on eight shots in 28 minutes against Michigan State two weeks ago, but has been held out of practices as he recovers.
The Wolverines have played well in his absence, blowing out Nebraska at home and beat Maryland on the road. But Matthews, who is also a team captain and the only fourth-year player on the team, has struggled being limited at such a pivotal time of the year.
"When you have a competitive guy like Charles on your team and he has to sit out for a bit because of injury, it's really hard," said sophomore forwardIsaiah Livers, who has started both games in place of Matthews. "You see him trying to go through the motions trying to get back in there. I remember he told me a long time ago 'If you can go 100, then you don't need to push it. We need you for postseason.' So that's what I told him, too. If you think you're gonna tweak it or hurt it more, then don't even try to do it."
Prior to Friday, Beilein had declared Matthews day to day, and called him a game-time decision at Maryland. Matthews was seen wearing a walking boot before Sunday's game, but wasn't wearing the boot and was wearing street clothes an hour prior to tipoff. Speaking with the CBS broadcast before the game, Beilein said that Matthews "still hasn't recovered yet, hopefully we can get him ready by postseason."
Beileindownplayed the quote with reporters after Sunday's game, and took an even harder stance Friday.
"You guys, by the way, read way too much into what I say," Beilein said. "I said 'We have to get him ready for the postseason,' not that he's not playing against Michigan State. I did not say that. I said 'We have to get him ready for postseason,' which is (next week). That doesn't mean he's not playing."
Michigan State, even withoutJosh Langfordand most likely withoutNick WardandKyle Ahrens, will present a tougher challenge than the Terrapins. And with a Big Ten title and seeding implications on the line, pressure will be on Livers and others to produce in Matthews' absence if the guard can't go.
"We have to change," Beilein said of how Michigan plays with Livers int he lineup over Livers. "It's just like anything that we do. We do not coach a system, that's way overblown. We move our system to coach our players. So there's other things that we can do, which I won't tell you, that we'll do when Isaiah's in the lineup, and you'll have to figure that out by yourself. But we're not going to stand there and run the same plays for Charles as we run for Isaiah, or the same action.
"Whatever he can handle that Charles could do, we'll do, and whatever we don't think he could handle, we won't do."
">247Sports